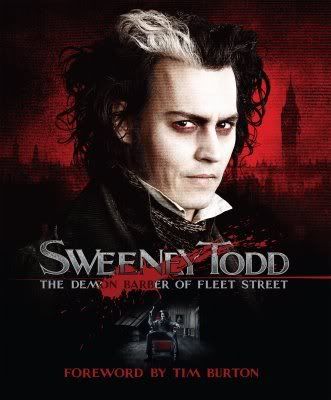 I was prepared to like Mark Salisbury's SWEENEY TODD: The Demon Barber of Fleet Street. I like the musical it was based on. I like Depp and Burton and Sondheim. What I wasn't prepared to do was love this book! Johnny Depp and director Tim Burton have teamed up again for this film adaptation of Stephen Sondheim's acclaimed musical thrilled "Sweeney Todd." Mark Salisbury's book is an in depth, informative chronicle of the making of the movie which opens here in the US this December. Mr. Salisbury's book never gets boring and the author never lectures the reader while sharing this book's story. Salisbury hit all the right notes when he wrote this companion book by layering the backstory of the legend of Sweeney Todd with the present day circumstances that put the players in the right spots at the right time to bring this version of SWEENEY TODD to the screen.
The well crafted book with 175 glossy, big pages with more than 200 photographs and illustrations and it is divided into two parts. Salisbury uses pictures and production artwork to tell the "making of" story in Part One, weaving in quotes from producer Richard Zanuck, director Tim Burton and cast members Johnny Depp, Helena Bonham Carter, Alan Rickman as well as crew and other cast members to help the reader grasp the goings on behind the scenes. Salisbury was wise to also add his own first hand experiences while on the SWEENEY TODD set at Pinewood Studios to bring an overview of the different pieces that brought this musical thriller together. The author then has the reader "attend the tale of Sweeney Todd" in Part Two, by adding illustrations, production stills and sketches to text pieces from the script. This is no ordinary companion book, this is a companion book that brings humanity and heart to an often macabre, gruesome and bloody story. It's easy to see that this is a labor of love by the author.
Mark Salisbury is the former editor of Britain's
Empire
magazine and is the author of numerous movie books, many in collaboration with Tim Burton. Mr. Burton penned the forward to this book.
This is not your average glossy, trendy coffee table book. It's a must read for SWEENEY TODD fans, the fans of Stephen Sondheim, Tim Burton and Johnny Depp. And it also serves as a wonderful invitation to those who've never met the demon barber of Fleet Street, to those who've never seen a musical and to those who've not yet seen the magic that Burton and Depp bring to a project, to get to know how a book can work hand in hand with a film. Mark Salisbury has written what I consider to be a Sweeney Todd primer. Get one for yourself and several as gifts. Neither Sweeney Todd nor Mark Salisbury will let you down.
SWEENEY TODD: THE DEMON BARBER OF FLEET STREET is published by Titan Books
Hardcover $30.00.
ISBN 13-9871844767044 - 175 pages
Publication date: December 2007
www.titanbooks.com
Copyright © 2007 by Dream Works LLC and Warner Bro's. Entertainment, Inc.
All Rights Reserved.